Saving Tram Chim
Ancient. Elegant. Endangered. Cranes inspire us to work for a better world. Reflecting on our golden anniversary, I am drawn to the amazing places where cranes have led us, and how decades of commitment and partnership inspire innovative new ways to safeguard cranes and the lands and waters we share.
Tram Chim in the Mekong Delta of Vietnam is one of those amazing places. Tram Chim was a local nature reserve when the International Crane Foundation became involved 35 years ago in hopes of saving the only known wintering grounds for the endangered Eastern Sarus Crane. Tram Chim was created by the late Mr. Nguyen Xuan Truong, Governor of this region, affectionately known as "Muoi Nhe," who had survived in these wetlands during the long period of warfare. Muoi Nhe had the foresight to realize that the 10-million-acre Mekong Delta was rapidly converting into the world's largest rice bowl, and few wetlands would survive.
Muoi Nhe also understood that healthy wetlands are essential to the future of the people and wildlife of the Mekong Delta and sought our help in managing Tram Chim as an island of biodiversity in a sea of rice. As a young graduate student at the time, my job was to learn from Muoi Nhe and create a water management plan for Sarus Cranes and wildlife at Tram Chim. Dr. Tran Triet, who now serves as our Southeast Asia Program Director, also started his career at Tram Chim at about the same time, studying wetland vegetation that was increasingly scarce in the region. Triet later launched the Mekong Wetland University Network, a 20-year partnership involving 26 universities in Southeast Asia that is a leader in research and management across the Mekong River basin.
Today, Tram Chim is a National Park, a designated "Wetland of International Importance," and a global biodiversity hotspot. The park hosts more than 60,000 annual visitors, many of them Vietnamese who learn a new appreciation for wetlands and their abundant life. They delight in huge flocks of Asian Openbill Storks and Glossy Ibises flying overhead, and abundant birdlife with colorful names like Bronze-winged Jacanas, Green-billed Malkohas, and Cotton Pygmy-Goose. Sarus Cranes are celebrated everywhere –billboards, park sculptures, playgrounds – and are featured on the logo for Tram Chim National Park and the emblem of Dong Thap Province where Tram Chim is located. But every winter fewer and fewer Sarus Cranes return to Tram Chim from their Cambodian breeding grounds. What is happening?
The Decline of the Sarus Crane in Cambodia
Cambodia, Vietnam's neighbor to the North, does not share the same story for wildlife. There, the Eastern Sarus Crane is in alarming decline, perhaps the most endangered population of cranes in the world with more than an 80 percent decline over the past decade. This decline stems from cranes being hunted for food and poisoned by pesticides when they feed in rice fields and rapid habitat loss as their breeding grounds are farmed, logged and settled with people. The International Crane Foundation and many conservation organizations have been instrumental in protecting small wetlands in Cambodia for cranes and other endangered birds, but government support for conservation is weak and the decline of Sarus Cranes, and their habitat, continues.
Thailand's Success Story
Fortunately, our strong history, team, and partners across the Saruslands of Southeast Asia still give us hope for this beleaguered species. One country over, Thailand, boasts a crane success story. Sarus Cranes were extirpated from Thailand in the 1960s due to hunting and habitat loss. But local conservationists, with strong support from the government and national zoos, stepped in with a plan. With research, training and advice from experts like our Co-Founder George Archibald, our Thai partners began breeding Sarus Cranes in the 1980s and began releasing birds in 2011. The Thais also created an outreach program with local farmers who have Sarus nesting on their lands, supporting their production of organic rice sold locally as "Sarus Rice." More than 100 Sarus Cranes are re-established in the wild, and last year 15 chicks successfully fledged.
Kudos to Mr. Attapon Srihayun, Ms. Nuchjaree Purchkoon, Dr. Piyakarn Teartisup, Dr. Boripat Siriaroonrat, and many others on the Thai team for leading one of the most successful crane reintroductions in the world…and for giving us new hope for the future of Sarus Cranes in Vietnam, too.
A New Partnership
Together with our partners the Government of Vietnam, the Vietnam Zoo Association and the Zoological Parks Organization of Thailand, we are planning the reintroduction of a non-migratory Sarus Crane flock into the bountiful Tram Chim National Park. With the vision of Muoi Nhe, a strong conservation team, and lessons learned from successes like "Sarus Rice" outreach, we move ahead. Rearing and release facilities are under construction, training exchanges are underway, and the first Sarus Crane chicks will arrive next year. Our great aviculture team at the International Crane Foundation will share their decades of experience and wisdom drawn from Whooping Crane reintroduction efforts. Reintroducing and securing Sarus Cranes in Vietnam also gives us time to work more deeply with partners in Cambodia to safeguard Sarus Cranes and other imperiled wildlife across this region.
Many years ago, Triet and I dreamed of success for Sarus Cranes as we dove into our student research. Through the decades-long commitment of our team, and the hard work of our colleagues in Vietnam, Thailand and across the Mekong River basin, there is still a place for Sarus Cranes in Southeast Asia. Though we have a long way to go, our beacon of hope for Sarus Cranes in Vietnam and throughout the region shines on. This effort reminds us of the good things that happen when we make long-term commitments to people and places for 50 years and beyond.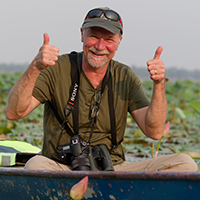 Rich Beilfuss, President and CEO