What do the numbers in the cranes' identifiers mean, such as L7-11? The "L" stands for the Louisiana population. If a "W" follows, this means the crane hatched in the wild. The number after the "L" represents the order in which the crane hatched. The last two numbers are the year they hatched, in this case, 2011.
The 2022 nesting season for Louisiana's Whooping Cranes was its most successful so far with eight of 15 chicks surviving to fledge. Four chicks fledged from marshes at the White Lake Wetlands Conservation Area – a population first and important milestone. Two of the fledglings at White Lake became Louisiana's third set of generally rare Whooping Crane "twins," with both siblings surviving. This year's successes bring the population total up to 76 individuals as of September 2022.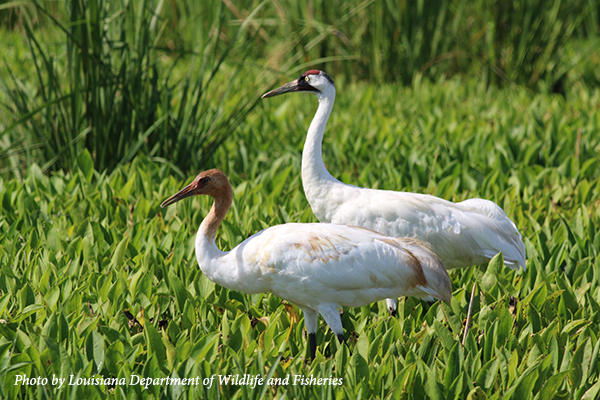 The Louisiana Department of Wildlife and Fisheries (LDWF), in partnership with the International Crane Foundation, U.S. Fish and Wildlife Service and many local organizations, began reintroducing Whooping Cranes to Louisiana in 2011. Since then, annual cohorts of captive-reared cranes have been released into the marshes at White Lake Wetlands Conservation Area in Vermilion Parish.
The first and second chicks of the year hatched from a nest at White Lake and became Louisiana's first Whooping Cranes to fledge from a natural marsh since 1939. All successfully fledged chicks in previous years of the reintroduction were raised by their parents in crawfish and rice fields. These two chicks also marked a second consecutive year in Louisiana with a pair of chicks fledged from the same nest. Whooping Cranes usually only fledge one chick at a time. The two other pairs at White Lake each raised a single chick.
Two Whooping Crane pairs that saw success in 2021 also fledged chicks this year. A pair in Avoyelles Parish fledged a chick this year after fledging two chicks in 2021. In addition, an Allen Parish pair raised a chick from a swapped egg – the third time they've successfully raised a chick from an egg that was not theirs. The Allen Parish pair are good parents and lay fertile eggs, but unfortunately, those eggs usually die before hatching for reasons yet to be identified. To help combat this issue, LDWF biologist Sara Zimorski and wildlife technician Eva Szyszkoski monitor their nesting attempts and swap viable eggs when available.
"We continue to make great strides in re-establishing the Whooping Crane in Louisiana," LDWF Secretary Jack Montoucet said. "The success of the 2022 nesting season, with eight fledged wild hatched chicks, reflects the hard work of our biologists and the resilience of these beautiful birds. We're excited about the future as our crane population continues to get older and more experienced in rearing chicks."
Overall, the future looks brighter for the growing Louisiana Non-migratory Population with increasing nesting success in natural marshes and 76 birds now in the population. However, the loss of any adult birds in a small population can imperil reintroduction, so the International Crane Foundation continues to focus on reducing the risk of poaching through outreach. This fall, we are increasing our reach in Louisiana by bringing Madi Radford on board as the Gulf Coast Outreach Program Assistant. She'll help support the outreach program and increase our presence at public events and with various groups across Louisiana and coastal Texas.
Story submitted by Irvin Louque, International Crane Foundation Whooping Crane Outreach Coordinator.
Special thanks to Sara Zimorski and Eva Szyszkoski of the Louisiana Department of Wildlife and Fisheries for their assistance with this story.